---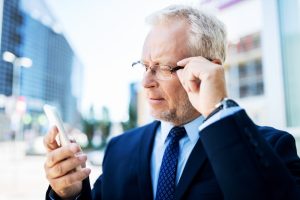 Technology is always advancing with new approaches to the Low Vision problem periodically added and older technologies being upgraded. Fortunately, many of the devices in use by normally sighted individuals can be tweaked to assist Low Vision and Blind patients, an approach that results in far lower costs than a device custom designed from the ground up. Cost Benefit ratios must be constantly evaluated to determine if the less costly approach will meet the patient's needs or if the more expensive device is a better fit. Smart Phones and Tablets are currently capable of doing amazing things for visually impaired persons, assuming the correct apps are used and sufficient training is provided.
One example of this conundrum is the Orcam. Originally touted to tell whether traffic lights were red or green, it failed to succeed in real settings in the U.S.. It's facial recognition feature works OK, but so do some free apps for smart phones, and it's text reading capabilities are not generally as good as KNFB Reader, a $99 app for the iPhone ($20 for android.). It's coolness factor of mounting on glasses is a big selling point, but should you pay $3500 for something your smartphone can do for $100?
The Orcam also requires pointing, something a blind person may not be able to do.
Don't get us wrong, the Orcam is great, and we hope that our critiques will lead to tweaks that will make it THE device to go to and worth every penny of the investment it takes to buy one. But, as a patient, you need to be certain that an expensive device like this will be truly useful to you before plunking your hard earned money down.
Since Dr. O'Connell lectures on Technology regularly, he takes the time to evaluate these products for his lectures, and for his patients, so that he can provide unbiased and real recommendations.
Westchester Low Vision provides software and hardware recommendations, provide basic training on apps that will help and can make referrals to places in the NY Metro Region where more comprehensive training is provided.