---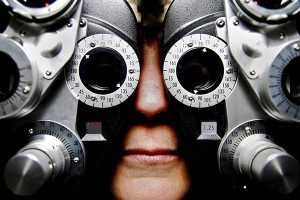 What is Low Vision?
Patients with reduced visual acuity or loss of side vision which cannot be corrected with standard glasses or contact lenses are known as low vision patients. More than 75 percent of these patients are 65 years or older. Functionally, Low vision can be any loss of vision which makes daily tasks, like reading, writing, watching television and walking, difficult.
About one out of every 20 Americans has low vision.
Low vision Rehabilitation allows people with vision loss to lead a more productive and enjoyable lifestyle.
What Causes Low Vision? Conditions which may benefit from Low Vision Services include:
macular degeneration, cataract, glaucoma, diabetic retinopathy, optic atrophy, retinitis pigmentosa, the ocular effects of stroke, and a variety of other vision disorders.
In the U.S. Low Vision Services are primarily provided by specially trained optometrists. Low Vision optometrists are specially trained in difficult refractions and rehabilitative optics.
What is a Low Vision refraction?
Many patients referred for Low Vision Services confuse the term "refraction" with the simple term use applied to routine measurement for glasses. A "refraction" in a low vision office, refers to all of the measurements, calculations, trials , and prescriptions of magnification, prism, absorptive lenses, and lighting, to suit the patients needs. This is often referred to as a "low vision refraction" or a "complex refraction".
Does my health insurance cover a Low Vision exam?
Westchester Low Vision does not accept health insurance.
What Can you expect during a Low Vision Evaluation?
Our comprehensive low vision evaluation carefully assesses the patient's current visual status, identifies the goals and visual needs, and designs an individualized rehabilitation program to meet these needs. Rehabilitative measures include the prescription of spectacles and / or a full range of low vision devices such as hand and stand magnifiers, telescopes, microscopes and electronic magnification systems. We also have a Technology Center, in which we can evaluate patients for computer adaptations and modifications, and other state-of-the-art high-tech devices such as computer screen enlargement software, print to speech systems such as the Kurzweil Omni and JBliss-VIP, and portable video systems such as the V-max.
Other measures available include sunwear evaluations, lighting and environmental design consultations to maximize function in the patient's real world setting, and visual therapy to enhance performance.
Referrals for Social Services, for Orientation and Mobility Training, and Activities of Daily Living Programs are provided as indicated.
Increasing Chances for Success: The type of low vision aids prescribed and the training given in using them properly are all significant factors in achieving success with low vision care. To benefit most from low vision care, it is important to have a realistic understanding of these aids and what they can do.
Low vision aids do not restore sight but help patients to use remaining sight more effectively.
The most important ingredient, however, is the person with low vision.
His or her desire and motivation will go a long way in assuring success in the effective use of a low vision aid.
As part of the blind rehabilitation network, the optometrist plays an integral role through diagnosis and management of the low vision patient and prescription of optical, non-optical and electronic devices to provide this population with optimal use of remaining vision. Optometrists who provide comprehensive low vision care establish clinical treatment plans including, but not limited to, prescription, training, education and interdisciplinary consultation.
Why do you need to see a low vision specialist after you have seen other doctors regarding your eye condition?
You may have already seen a number of doctors in an attempt to treat your eye condition.
Doctors today are part of a system that rewards increasing specialization. A "retinal specialist", for example, often does not refract his or her patients, much less provide specialized rehabilitative services. The extensive time required to do so would be a poor use of their unique expertise and training.
The system actually results in better overall care for the patients.
Low Vision services are unlike any services you may have received before. Our assessment is functional or "goal" oriented and we have available a host of specialized devices and special training to help you to meet those goals. A low vision exam typically takes AT LEAST an hour to complete, much longer than most eye doctors spend with their patients.
Who Provides Low Vision Care?
Most low vision specialists are Doctors of Optometry with at least some additional training and experience in the field. There are a few Ophthalmologists who specialize in Low Vision also (about 4 nationally that I am aware of). Most doctors do NOT practice low vision care because it is NOT a lucrative field. Those of us who specialize in Low Vision are generally not doing it for financial reasons, but because they find low vision rehabilitation to be extremely rewarding and satisfying.
In this age of managed care, most doctors are being pressed to increase the amount of patients they can see per day as reimbursements for patient visits and care are shrinking. Low Vision care is inherently time consuming, meaning that it is, and will likely remain, a specialty with relatively low reimbursement per unit of time.
How much does Low Vision Care Cost?
While the Refraction fee is determined by the practice, and varies widely it most typically ranges from $100 to $250 in the NY Metropolitan Area. Keep in mind that practices that do not SPECIALIZE in Low Vision may choose to charge less for this fee as their Low Vision exam may be less comprehensive. Some practices may also choose to split the lengthy low vision evaluation into several shorter visits to maximize reimbursement and allow low vision services to fit into the schedule of a busy primary care office. This solution is not always best for patients however, as arranging transportation to a doctors office is often a hardship for patients who are unable to drive themselves.
What type of solutions will a Low Vision Provider Prescribe?
The solutions that are used for Low Vision rehabilitation vary widely with the patient's level of Vision Impairment, the impact of their Blind Spot or Scotoma, and their levels of cognitive adaptability and motivation.
Two patients having Identical Vision may require totally different solutions depending upon a myriad of other factors. That is where the level of Expertise of your Low Vision provider becomes critical.
Keep in mind that Low Vision is a PROCESS, and even the most experienced specialist may trial some devices for their patients that may not work in the long run. Rehabilitation is frequently not a quick , one-stop experience. Be prepared to work with your Low Vision Doctor as you and they work to find the best options for your needs.